…just think about the grandmasters who have felt stupid after losing to the seven move checkmate. In chess theory, there is a distinction between a relative pin and an absolute pin. An absolute pin is when the piece pinned is in front of the king. A relative pin is when the piece pinned is in front of a piece of lesser value than the king but is still in front of a much more maneuverable piece than itself. The seven move checkmate dupes the opponent into falling for a relative pin. Here's the general move-set:
1. e4 e5
2. Nf3 (attacking e5) Nc6 (defending e5)
3. Bc4 (hitting that f7 square) d6 (setting bishop out for that pin on the knight)
4. Nc3 (hitting d5 square) Bg4 (pinning knight)
It's at this point in the game that your opponent thinks he has "pinned" your knight. The board will look like this:


5. Nxe5!? Bxd1??
6. Bxf7† Ke7 (only legal move)
7. Nd5‡ 1-0
end of board result: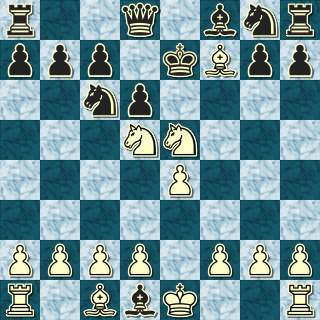 How is this supposed to help you feel better about your chess? Well…just know that many grandmasters have actually fallen for this dupe.